If you like this recipe come back on www.happystove.com and rate it!
Guacamole Sauce - Recipe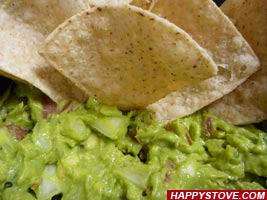 Guacamole is a tasteful dipping sauce perfect with tortilla chips. A great recipe for a successful starter on a baked potato or on some bruschetta.
Stats:
Preparation time:

10 minutes
Cooking Directions:
Peal, pit and mash the avocados. Dice the onions and the tomatoes. Chop the cilantro and mince the garlic.
In a medium bowl mix the avocados with the lime juice and salt.
Add the diced onions, the tomatoes, the cilantro and the garlic. Adjust with pepper and mix.
Cover with plastic wrap and refrigerate for at least one hour for best results.
Tips:
Guacamole is perfect as dipping sauce for tortilla chips.
Traditionally one avocado pit is left in the guacamole sauce in order to prevent guacamole from turning brown. The antioxidants in the lime juice are the real secret.
For a creamy guacamole blend all the ingredients using a food processor. If you prefer it chunky simply mash them in bigger pieces.
The right avocados to use for this recipe should give a little when pressed on.
Guacamole Sauce is tagged as: