If you like this recipe come back on www.happystove.com and rate it!
Pickled Pearl Onions - Recipe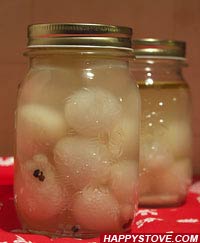 Pickled Pearl Onions are a perfect side for boiled beef or as cocktail snacks. This recipe explains step by step how to make tasty homemade pickles.
Stats:
Preparation time:

45 minutes
Cooking Directions:
Before starting you need to sterilize two glass canning jars. Wash very well the jars and place them in the oven for 1 hour at 250 F without the caps. You can reuse canning jar but always use new lids.
In the mean time boil abundant water in a pot and cook for 1 minute the pearl onions. Drain and let them cool in cold water.
Helping yourself with scissors remove the extremity from each onion and carefully peel them.
Pour the white vinegar in a stainless stock, add the sugar, the black peeper in grain, the salt and the bay leaves.
Bring the vinegar to boil and cook the onions for 3 minutes. Remove from heat.
Remove the jars from the oven and fill them with the onions. Cover entirely the onions with the cooking liquid leaving 2 inches of head-space between the onions and the jar rim. If the liquid isn\'t enough simply boil for 2 minutes additional vinegar and fill up.
Add a tablespoon of olive oil on top of the vinegar to better preserve the pickled onions.
Quickly and firmly close the lid when the liquid is still hot. Turn the jar upside down. Let stand for 10 minutes.
After 10 minutes flip again and let cool. When cold hold the jar at eye level and look across the lid. The lid should be concave. This means that the jar is sealed.
Store the pickled pearl onion jars in a dark place and let rest for at least 30 days before consuming it.
Tips:
Perfect as side for boiled beef or as cocktail snacks.
Pickled Pearl Onions is tagged as: