If you like this recipe come back on www.happystove.com and rate it!
Pita Pizza - Recipe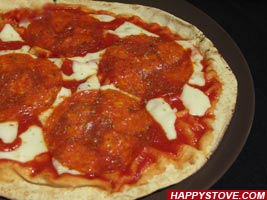 Pita Pizza recipe is a fantastic idea for a yummy snack for your parties or for a quick meal. You can bake many different variation using your favorite flat bread and your toppings of choice.
Stats:
Preparation time:

10 minutes
Cooking Directions:
In a small bowl mix together the tomato sauce with the olive oil and abundant oregano. Let marinate for 10 minutes.
In the meantime preheat the oven at 400F.
Add 2 tablespoons of the prepared tomato sauce on each pita bread. Top with cubed mozzarella cheese and pepperoni. If you use fresh mozzarella in water drain it well before using it or it will damp the bread while cooking.
Bake for 5 to 10 minutes then slice and serve warm.
Tips:
You can create many different snacks using your favorite flat bread and your favorite toppings.
For a perfect Pita Pizza Bread consider using a Baking Stone that absorbs the oven's heat and later release it to the bread. The result will be a soft and crunchy snack.