If you like this recipe come back on www.happystove.com and rate it!
Roast Beef with Tuna Sauce - Recipe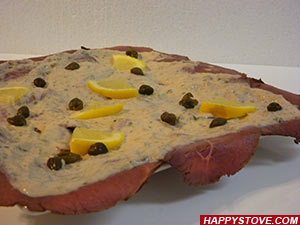 Roast Beef with Tuna Sauce is a really quick and easy recipe for a yummy dish. A creamy sauce of tuna, mayonnaise and capers, over a layer of thinly sliced roast beef is a perfect idea for a scrumptious appetizer or main course. Amazing for your summer meals.
Stats:
Preparation time:

20 minutes
Cooking Directions: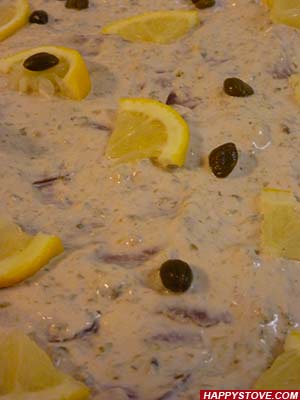 In a large pan or serving tray, lay the sliced roast beef in a single layer. Add oil, salt, pepper and lemon juice on the top. Let rest for 30 minutes to marinate
In the meantime, blend the drained tuna, the whole capers and the mayonnaise in a food processor until you obtain a creamy, pink-beige colored, sauce.
Spread the sliced roast beef with the tuna and caper sauce to cover it completely. You can prepare it well ahead of time and keep refrigerated.
Before serving, garnish with thin slices of lemon and whole capers.
Tips:
In addition to the whole capers, you can add some pitted green olives to the tuna and capers cream.
For additional flavor at the sauce can be added an anchovy fillet.
Roast Beef with Tuna Sauce is tagged as: