If you like this recipe come back on www.happystove.com and rate it!
Pad Thai - Recipe
Pad Thai is the most popular dish of the everyday Thai cuisine that became a delicacy in the western countries. In this recipe we show how you can prepare it at home with ingredients commonly available in many stores.
Stats:
Preparation time:

40 minutes
Ingredients:
Dried Shrimps

(to garnish)

1/4 cup
To browse other recipes using that ingredient click on the
Cooking Directions: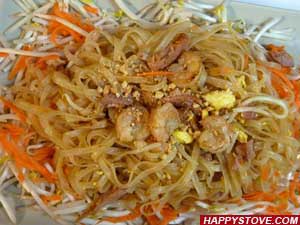 Soak the dry rice noodles, also called rice sticks, in warm water for about 45 minutes. Then take them out and set aside. They are ready when soft and somewhat transparent.
In the mean time prepare a marinade mixing together the soy sauce, the white vinegar and the sugar.
In two separate bowls marinade the pork cut in pieces and the shrimps, each with one tablespoon of the marinade. Let rest for at least 20 minutes.
Grease with some oil a wok or a large frying pan, heat and saute the pork pieces. When fully cooked, remove from the wok and set aside.
In the same wok, saute also the shrimps until pinkish and almost ready, then remove from the pan and set aside.
Wash and chop onions, garlic, and shred the carrots.
Add another tablespoon of oil in the pan and sauté onions and garlic for 5 minutes until golden-brown. Now add the carrots and cook for additional 2/3 minutes.
At this point add the drained noodles and toss. Let cook for 5 minutes adding a bit of water (or soy sauce) if necessary. Add the chili powder and the dried shrimps.
If using a large enough wok put the noodles in a corner. Add the remaining oil and the eggs. When they are set, scramble them and mix together with the noodles. Otherwise prepare the scrambled eggs in a separate pot and mix with the noodles when ready.
Add the previously prepared sauce to the noodles and stir until ready. The rice noodles are fully cooked when soft and expanded.
Leave the heat on high and add the bean sprouts, the meat and the shrimps. Toss well all together.
Garnish with the lime cut in pieces, the remaining raw bean sprouts and carrots julienne.
Sprinkle with peanuts and serve. Do not forget to put on the table some hot chili sauce.
Tips:
Remember to cut the rice noodles sticks. If too long it will be impossible to mix them in the wok.
Instead of shrimps and pork, you can use tofu, beef, chicken or even sausages.
There are many variations of the Pad Thai. Many recipes call for tamarind and fish sauce instead of vinegar and soy sauce. Palm or coconut sugar instead of regular one and palm oil instead of the more common canola oil.