If you like this recipe come back on www.happystove.com and rate it!
Red Chili Peppers with Anchovy and Mozzarella Cheese - Recipe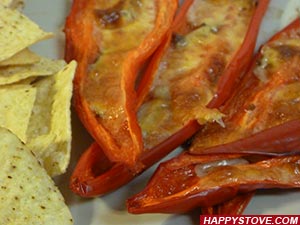 Spice up your dinner with these succulent Red Chili Peppers with Anchovy Fillets and Mozzarella Cheese. Easy and quick to prepare, this flavorful piquant idea is perfect when served, either warm or cold, as appetizer or side dish.
Stats:
Preparation time:

15 minutes
Cooking Directions:
Wash and cut the red chili peppers in halves, lengthwise.
Clean very well the hot peppers removing the white cores and all the seeds. Rinse them again and dry well with paper towels.
Lay the red chili pepper halves on a lightly greased baking pan.
Fill each half red chili pepper with an anchovy fillet and top with some of the mozzarella cheese in pieces.
Bake in the oven, preheated at 400F, for about 30 minutes or until the mozzarella cheese starts to nicely brown.
Serve either hot or cold as appetizer or side for beef or pork steaks and white rice or mashed potatoes.
Tips:
You can turn this recipe in a finger food appetizer. Simply let cool, roll up each chilly pepper, pin it with a toothpick and serve as cocktail snack with sparkling withe wine or Campari Spritz Cocktail ↪.
Red Chili Peppers with Anchovy and Mozzarella Cheese is tagged as: