If you like this recipe come back on www.happystove.com and rate it!
Oven Baked Broccoli No-Meat-Balls - Recipe
Oven Baked Broccoli No-Meat-Balls are a delicious and yummy idea for a healthy, vegetarian, meal. Perfect either hot and cold, these meatballs can be served as appetizers or become a great standalone main dish.
Stats:
Preparation time:

40 minutes
Cooking Directions: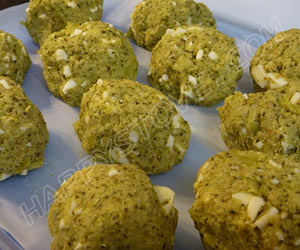 Wash, clean and steam the broccoli. Let cool down a little bit then mash them in a large bowl.
Boil the eggs for 8 minutes in boiling water. Let cool down then peel and separate yolk and whites.
Mix the boiled egg yolks with the mashed broccoli and the bread crumbs.
Reduce the white eggs in pieces and add them to the broccoli, egg yolk and bread crumb mix. Add the cheese and some crushed red peppers to the mixture (if desired).
Season the mixture with salt, black pepper and ground nutmeg.
With the help of a spoon, form small balls of the broccoli mix (about 1 inch wide) and lay them on a baking pan, greased or covered with parchment paper.
Place the Oven Baked Broccoli No-Meat-Balls in the pre-heated oven at 400F and bake for about 30 minutes or until the balls turn golden and crusty.
When ready, remove from the oven and transfer the Oven Baked Broccoli No-Meat-Balls on a large plate before serving.
Oven Baked Broccoli No-Meat-Balls is tagged as: