If you like this recipe come back on www.happystove.com and rate it!
Fresh Seafood Pasta - Spaghetti allo Scoglio - Recipe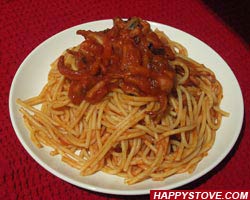 Spaghetti allo Scoglio (Fresh Seafood Pasta) recipe is a traditional Italian seafood dish, usually one of the most expensive in any restaurant. You may cook your own at home with surprising results as described step by step in this recipe.
Stats:
Preparation time:

45 minutes
Tips:
When using fresh shellfish, soak clams and mussels in water for one night before cooking to clean beforehand.
In two large pots boil clams and mussels, separately to open them. Don't use the shellfish still closed after boiling. Save the cooking water for later use.
In another large pan, brown the garlic with extra virgin olive oil. Add the tomato sauce, the baby octopus, the shrimps and the squids. Spread some Italian parsley and cook for about 20-25 minutes on low heat.
When ready add the mussels and the clams and some water (1/2 a cup, or more if needed) of the boiling water previously saved. Cook for about 10-15 minutes.
Add more fresh parsley and hot pepper if desired.
In the meantime, bring to boil in a large pan, the water for the pasta. When on rolling boil, add salt and the spaghetti. Cook until al dente.
Drain the pasta and add it to the seafood sauce. Cook for additional 2-3 minutes in the seafood mix. Serve hot.
Tomato sauce, in this recipe, is used just to give some color to the sauce without covering with the tomato flavor the taste of the seafood.
We suggest the use of thick spaghetti or linguine (plain or even rigati) pasta for this recipe.
You may want to add more seafood to this recipe. Prawns, cuttlefish and crawfish well match with this flavored sauce.
If you are in a hurry or just want to save some time, you may want to use frozen mixed seafood, available in any grocery store. Thaw them in the refrigerator before using.
Fresh Seafood Pasta - Spaghetti allo Scoglio is tagged as: