If you like this recipe come back on www.happystove.com and rate it!
New York Cheesecake - Recipe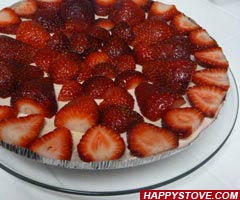 The classic recipe for the world famous New York cheesecake. A creamy and smooth texture and a full flavor in this perfect dessert recipe.
Stats:
Preparation time:

60 minutes
Cooking Directions:
Preheat the oven at 325 F.
Mix crumbs, butter and 2 tablespoons of sugar; press onto bottom of a 9' round baking pan.
In a large bowl beat the softened cream cheese, 1/2 cup of sugar and 1 tsp vanilla extract until well blended. Add 1 cup of sour cream and mix well. Add eggs, 1 at a time, beating on low speed. Pour over the previously prepared crust
Bake for about 35 minutes or until the center is almost set. Don't let the cake turn dark.
In the meantime mix 1/2 cup of the remaining sour cream, sugar and vanilla; Spread the obtained cream over the cheesecake and bake for addtional 10 minutes
Cool completely and then refrigerate for 3-4 hours
Cover the cheesecake with sliced strawberries and serve chilled.
Tips:
Instead of making your own Graham cracker base you can easily find quality ones at any store.
New York Cheesecake is tagged as: