If you like this recipe come back on www.happystove.com and rate it!
How to Make Homemade Ricotta Cheese - Recipe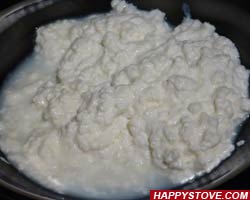 Making Homemade Ricotta Cheese is a surprisingly easy task. A basic ingredient of many recipes, Ricotta Cheese is perfect for pasta, sandwiches, snacks, salads and even desserts.
Stats:
Preparation time:

10 minutes
Cooking Directions:
In a large stockpot mix the whole milk with the salt and warm it at very low heat.
When the milk is almost boiling, add the vinegar and quickly stir with a wooden spoon. Turn off the heat.
Let rest the milk for about 15 minutes while the ricotta cheese is forming.
With the help of a strainer, drain the whole milk and collect the ricotta cheese flakes. Transfer in a bowl.
Tips:
Half a gallon of whole milk makes about half a pound of ricotta cheese.
If not served immediately, refrigerate. However, consume it within a day.
Milk should never boil during the making of the ricotta cheese.
Lemon juice can substitute the vinegar with similar results.
You can make flavored ricotta cheese mixing, to the homemade flakes, your favorite herbs such as sage, oregano, thyme, peppercorn, rosemary, nutmegs or juniper berries.
How to Make Homemade Ricotta Cheese is tagged as: