If you like this recipe come back on www.happystove.com and rate it!
Creme Brulee - Recipe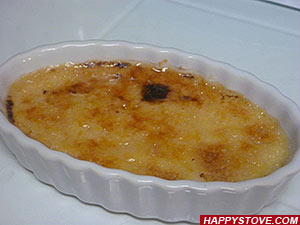 Creme Brulee, or burnt cream, is a well known and loved French dessert consisting in a egg rich custard and a crusty top of caramelized sugar. Following this step by step recipe you will be able to easily bring a stunning dessert on your table.
Stats:
Preparation time:

10 minutes
Cooking Directions: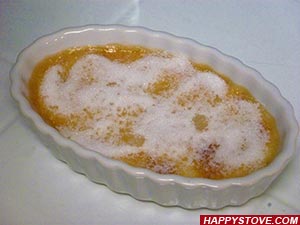 Preparing the custard:
In a large bowl, add the egg yolks and the sugar and stir lightly with a wooden spoon to obtain a creamy, non foamy, mix.
In the meantime, mix the whole milk, the heavy whipping cream and the vanilla extract in a sauce pot.
Gently bring to boil, stirring continuously. When simmering turn off the heat.
Slowly pour the hot milk on the egg yolks and sugar mix stirring continuously with a wooden spoon until you obtain a creamy and homogeneous custard.
Baking the Creme Brulee:
Preheat the oven at 350F.
In the meantime, filter with a strainer the creme brulee stirring well to remove any lump.
Pour an equal quantity of the filtered burnt cream into 6 single dose baking ramekins.
Transfer the ramekins into a large baking pan. Fill the baking pan with enough water to come halfway up the ramekins sides.
Place the baking pan in the oven and bake for about 50-60 minutes or until the creme brulee top surface is set and golden.
Remove the ramekins from the oven and let chill a little.
Caramelizing the glaze:
This step should be performed just before serving the creme brulee. If you don't serve your dessert right away, keep the creme brulee in the fridge and brown the sugar later.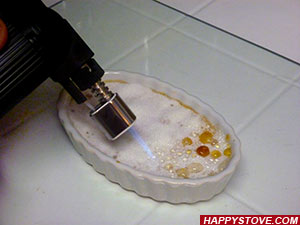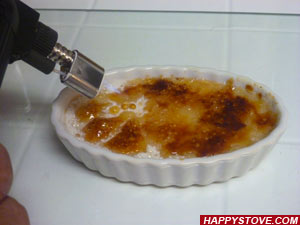 To caramelize the surface, sprinkle some sugar on top of the baked cream and burn it with a butane torch until you evenly brown the sugar.
If you don't have a butane torch two alternative approaches can be used:
1) Caramelization in the oven: after adding the sugar, place the ramekins in the oven and turn on the broil on high. Let stand until the sugar on top start to caramelize.
2) You can brown the sugar by burning some hard liquor on top of the creme brulee. However, this method may prove difficult and you should carefully consider the risk involving the use of an open fire.
Creme Brulee is tagged as: