If you like this recipe come back on www.happystove.com and rate it!
Lentils with Bacon and Red Wine - Recipe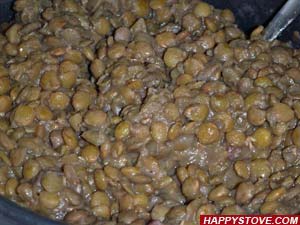 Looking for a hearty yet healthy recipe? Lentils with Bacon and Red Wine are a delicious and tasty idea. Perfect as a side dish for your meat course but great as standalone meal as well. Yummy!
Stats:
Preparation time:

20 minutes
Cooking Directions:
Prepare some beef or vegetable broth. Alternatively you can use water and vegetable or meat bouillon.
In a large pot caramelize the finely chopped onion in extra virgin olive oil together with the bay leaves and the cubed bacon.
When the onion is lightly brown add the lentils and saute for a few seconds before adding the red wine.
Stirring continuously, let evaporate the red wine.
At this point add the broth and lower the heat.
Let cook, covered, for about 50-60 minutes or until the lentils are fully cooked.
Check frequently the lentils and add some broth if too dry. Stir often.
Serve hot as a side for a meat dish or use them as a base for a soup. Lentils are great also when served as a main course.
Tips:
It is a good idea to keep some broth handy if you do not serve the lentils right away. In fact, lentils tend to adsorb water and dry out even after being fully cooked.
Lentils with Bacon and Red Wine is tagged as: