If you like this recipe come back on www.happystove.com and rate it!
Saute of Green Beans and Onions - Recipe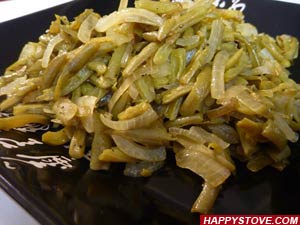 Quick and easy, this recipe for Saute of Green Beans and Onions is the perfect side for your main courses. An explosion of flavors!
Stats:
Preparation time:

10 minutes
Cooking Directions:
Finely slice the onion and chop the garlic. Drain the green beans.
In a large pan, heat the olive oil and saute on high flame onions and garlic until golden brown.
Add the green beans and stir fry for about 5 minutes until cooked.
Adjust with salt and pepper. You can add some crushed red pepper if desired.
Serve hot.
Tips:
If you use fresh green beans, snap the tips and remove the strings. Cut them in pieces if too big. Wash them briefly and cook them in rolling boiling water for about 2-3 minutes. They are done when cooked but still slightly crunchy. Drain well and use them as described in this recipe.
Saute of Green Beans and Onions is tagged as: