If you like this recipe come back on www.happystove.com and rate it!
Eggplants Parmigiana - Recipe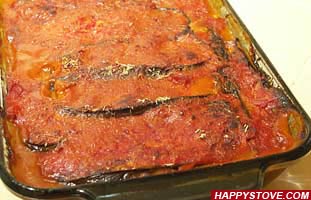 Eggplants Parmigiana is a well known traditional Italian recipe. Serve this delicious dish either warm as a main dish or cold as a tasty appetizer or side dish.
Stats:
Preparation time:

60 minutes
Ingredients:
To browse other recipes using that ingredient click on the
Cooking Directions:
Wash and slice the eggplants lengthwise, each slice 1/4 inch thick.
To remove the bitter juices from the eggplants place them in a colander. Add abundant salt. Cover with a dish and apply a weight on top in order to press the eggplants and help the juice release. Let stand for one hour then wash thoroughly. Dry each slice using some paper towels or a kitchen cloth.
Heat a large fry pan with abundant oil. Deep fry the eggplant slices for about 5 minutes. Drain them and let cool.
In the meantime prepare the homemade basil tomato sauce.
In a 11x8 baking pan lay 2 spoons of tomato. Place a first layer of fried eggplants slices. Cover with tomato sauce and half of the provolone cheese.
Place a second layer of eggplants then the tomato sauce and the remaining provolone cheese.
For the last layer place the eggplant slices. Cover with tomato sauce. Top with the grated Parmigiano cheese.
Bake for one hour in the oven at 400F.
May be served either warm as a main dish or cold as a tasty appetizer or side.
Tips:
For a tastier Eggplant Melanzane Parmigiana you can add ham and substitute provolone cheese with mozzarella.
Eggplants Parmigiana is tagged as: