If you like this recipe come back on www.happystove.com and rate it!
Mushrooms and Cream Pasta - Recipe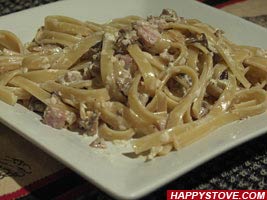 Mushrooms and Cream Pasta is a delicious recipe that combines the flavors of Porcini mushrooms and pancetta with great results. Everything is mixed with the smooth taste of the whipping cream, for a perfect match.
Stats:
Preparation time:

20 minutes
Cooking Directions:
Bring to boil the water, add salt and cook the fettuccine or your favorite pasta until al dente.
In the meantime, in a large skillet, heat the extra virgin olive oil and wilt the chopped onion.
When the onions are ready, add the cubed pancetta (or bacon) and cook for about 5 minutes or until well cooked.
Add the fresh sliced mushrooms and cook for additional 5 minutes.
Bring the heat to the minimum and add the table cream. Adjust of salt and pepper. Stir occasionally and cook until the cream has reached the desired consistency. Add few tablespoons of milk if too thick.
When the pasta is ready, dress with the mushrooms and cream sauce and serve.
Tips:
Fresh Porcini mushrooms would be the best choice for this recipe. If you are using dried mushrooms, pour them in a cup of warm water for about 30 minutes before draining (discard the obtained liquid) and adding to the sauce.
If you cannot find Porcini mushrooms, fresh, dried or canned mushrooms of your choice, may be used.
We suggest the use of Italian cubed Pancetta for this recipe. If you prefer, cubed bacon or baked ham may be used.
Mushrooms and Cream Pasta is tagged as: