If you like this recipe come back on www.happystove.com and rate it!
Sweet Peas with Turkey Ham - Recipe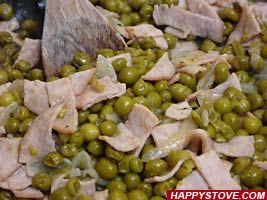 Sweet Peas with Turkey Ham is a yummy and quick recipe for a tremendous side dish. Easy to make, it will accompany very well your meat dishes.
Stats:
Preparation time:

15 minutes
Cooking Directions:
Drain the sweet peas from the can saving their juice in a cup for later use.
Cut the turkey ham in small strips or squares.
Shred the onion.
In a large skillet heat the olive oil and sauté the onion until wilted.
Add the ham and cook on medium heat for about 5 minutes or until slightly crispy.
Transfer the drained sweet peas in the skillet and stir very well.
Add some of the sweet peas juice previously set apart, adjust of salt and pepper and cover the skillet. Decrease the heat to low-medium settings. Let cook for about 10-15 minutes stirring frequently and adding little quantities of sweet peas juice if necessary.
In the last 2-3 minutes, remove the cover and cook the peas and turkey ham until all the water is evaporated.
Serve hot as a side for your meat dishes.
Tips:
You can substitute the turkey ham with smoked ham or bacon.
This recipe can be followed to cook also frozen or fresh peas. Simply cook longer, adding 1/2 cup or more of water. You may also add a little bit of vegetable broth to improve the flavor.
Sweet Peas with Turkey Ham is tagged as: