If you like this recipe come back on www.happystove.com and rate it!
Italian Style Grilled Meat and Veggie Spiedini Skewers - Recipe
Grilled Meat and Veggie Spiedini Skewers are a delicious idea for a barbecue dinner. This simple skewers recipe can be prepared ahead, quickly cooked on the grill and when served to your guests will for sure impress them. A divine mix and match of flavors!
Stats:
Preparation time:

40 minutes
Ingredients:
To browse other recipes using that ingredient click on the
Cooking Directions: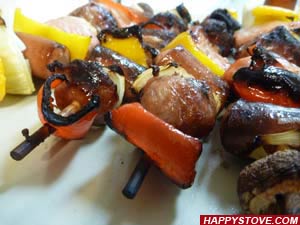 The following steps describe the preparation of spiedini skewers on the grill. However, if you do not have a grill or prefer not to use one, you can cook spiedini in the oven in a oven safe pan or covered on stove top. Add some marinade while cooking to keep the meat tender and moisten.
Prepare the meat cutting beef, pork, chicken and frankfurters in cubes of the same size (about one inch). Cut the bacon or the pancetta in large strips of about 1 1/2 inches.
Wash the vegetables, cut bell peppers and onion in pieces and the mushrooms in halves.
Now take a long wooden skewer and start skewing the pieces alternating vegetables or bacon stripe with a meat cube.
When all the spiedini skewers are completed, marinade them with some extra virgin olive oil, half a cup of white wine and herbs such as rosemary and sage. Adjust of salt and pepper. Let rest for at least 90 minutes, flipping them from time to time.
After the marinade is completed, heat well the grill and lay on top the Spiedini Skewers. Carefully turn them often upside down and brush each skewer with some marinade juice to keep them moist and tender while grilling.
Cook for about 15-20 minutes or until ready. Serve immediately.
Tips:
Consider starting and ending each Spiedini skewer with a vegetable. Thread skewers with pieces close to each other but not too crowded because the meat tends to loose up while cooking.
If you are in an hurry, you can skip the marinate. Simply cook the skewers on the grill until ready.
Italian Style Grilled Meat and Veggie Spiedini Skewers is tagged as: