If you like this recipe come back on www.happystove.com and rate it!
Pumpkin Cookies - Recipe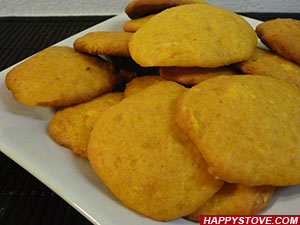 Pumpkin cookies are an original, easy and yummy recipe for both kids and adults. Ideal for Halloween and for the fall, these cookies are a yummy alternative to the traditional pumpkin pie. Great both plain with a glass of milk or glazed as a tempting dessert with a cup of tea.
Stats:
Preparation time:

20 minutes
Cooking Directions:
The cookies:
Wash the pumpkin, cut it in pieces and boil it in abundant water for about 5 minutes.
In a large bowl smash the pumpkin using a fork or a potato masher obtaining a homogeneous paste. Instead of using fresh pumpkin you can use canned or frozen pumpkin puree.
Add the flour, sugar, potato starch, the instant yeast and the egg yolks one by one and mix well. Add the melted butter to the dough. Mix well until the dough is homogeneous. Help with your hands to obtain a more uniform and soft dough.
Let the dough rest for about 20 minutes, then shape the dough as 2 inches long and thin logs. If the dough is too soft, use a spoon to shape your cookies directly on the tray.
Lay the cookies on a baking sheet apart one from the other to avoid them sticking while baking.
Bake in the oven at 320 F for about 30 minutes or until golden and slightly brown.
The Glaze (Optional):
Whip the eggs white using an electric beater.
Glaze with the whipped eggs each cookie while in the cookie sheet before baking.
Tips:
Enhance the flavor of this delicious pumpkin cookies adding some cinnamon powder to the dough.
These Pumpkin cookies are ideal for every season and perfect for a Halloween potluck. They will be gone in no time.
Instead of sweet pumpkin puree you can also use other winter squash like butternut squash or acorn squash.
Pumpkin Cookies is tagged as: